Members: If you'd like to use this member button on your webpage just copy & paste the html code below or upload the button to your server linking it to Antonio & Gabi Luva's (more convenient). Feel free to edit it and add your club nickname if you have a program to do so. If you're not a member yet, you can go here to sign up, then just follow the instructions in the e-mail you receive to get your keepership & nickname -- thanks!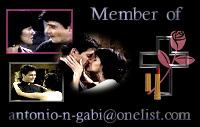 border=1 height=127 width=200 alt="Antonio & Gabi Luva">
Home

Disclaimer: Sunset Beach & all of it's character's, storylines, etc. are property of NBC & Aaron Spelling Entertainment. We are in no way affiliated with any of them, this site is for the pure enjoyment and entertainment of our fellow Antonio & Gabi Fans. All screen caps & banners were created by Slayeret@aol.com and are the sole property of Antonio & Gabi Luva's.